Ontario Dentist is a popular resource for dentists across Ontario, in Canada and internationally. Published 10 times a year, Ontario Dentist is one of the best ways to directly reach dentists in Ontario. Our circulation is approximately 10,500 per year.
Display ads are found throughout each issue of Ontario Dentist and are available in several options. See the photo gallery below. Download our Advertising Media Kit for options and pricing.
Place your ad in the Ontario Dentist Classified Ads section. Whether you offering a job, office space, or items for sale or more, it will be seen by more than 10,000 dentists in Ontario. There are two options.
Classified ads are text-based (no images or logos).
The Marketplace is a special section where advertisers can run ads that have more of a visual impact than a classified ad. You can submit a Marketplace ad of your own design or request that the ODA's Graphic Design Department design one for you.
Samples of both ads can be seen in the photo gallery below. Details on pricing, issues and deadlines can be found in the Classified and Marketplace Ad Rate Card.
Sample Ads in Ontario Dentist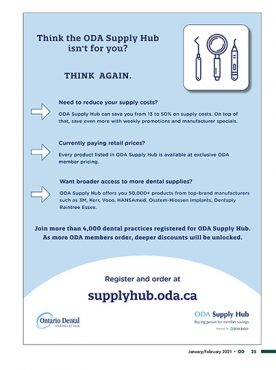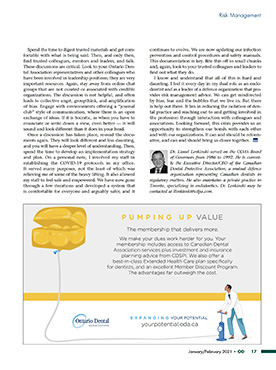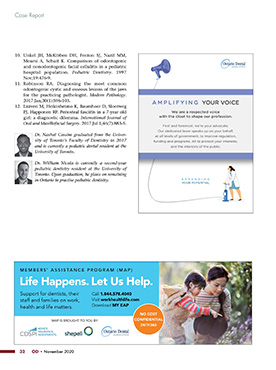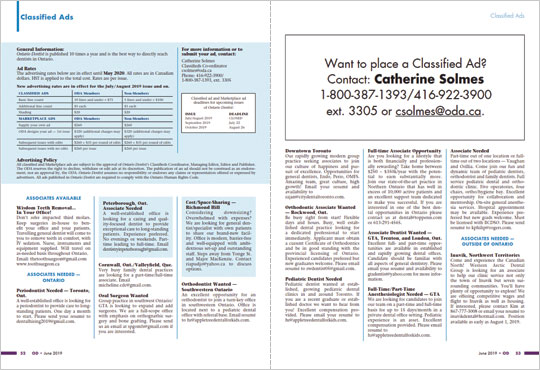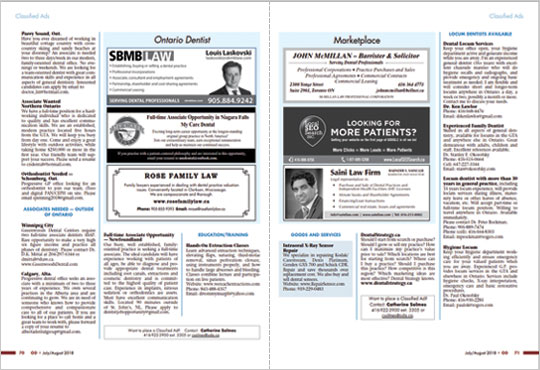 Contact
Julia Kuipers
Managing Editor, Ontario Dentist
Phone 416-355-2276
Phone Toll free: 1-800-387-1393 ext. 2276
Email jkuipers@oda.ca